Regional Atmospheric Soaring Prediction
BLIPMAP FORECASTS
For New Castle, VA
Using a locally-run WRF model with 4 km horizontal resolution and 52 vertical levels
BLIPMAPTM = Boundary Layer Information Prediction MAP
Created by Dr. John W. (Jack) Glendening, Meteorologist

Local model run by Andrew Kriz and Ron Kriz
UNDER DEVELOPMENT !
The model for the SW VA area is currently untested and is being continually being refined for usability, accuracy, location, time, etc. The site will be undergoing changes while it is moved to a fully operational state Feel free to contact us if there are any suggestions or problems with the website/forecasts.
Our contact info is on the BRSS member list.
The forecasts are updated early morning for the current day. New images will replace older ones as the forecast is updated.
Be sure to check the time and date on the top of each image.
An example of a forecast with notes (click for larger image)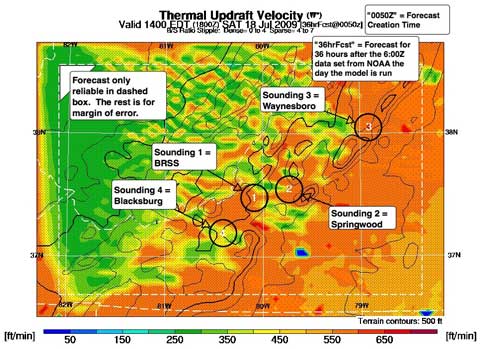 ---

Links to Further Information

Parameter descriptions
BASIC thermal forecast parameters - a short and simple list of the parameters most important for thermal soaring
July 2002 SOARING magazine BLIPMAP article - a descriptive "first thing to read" for potential BLIPMAP users, giving an overview of BLIPMAP predictions